Mrs Geaves/Mrs Sibly, Mrs Friar & Mrs Isaque.
We believe that The Early Years Foundation Stage is crucial in securing firm foundations that children can continue to build upon. It is our intent that the children who enter our EYFS develop physically, verbally, cognitively and emotionally whilst embedding a positive attitude to school and learning. We believe that all children deserve to be valued as an individual and we are passionate in allowing all children to develop their full, unique potential. With this in mind, we begin each new school year by looking at the individual needs of our children and, taking into account their different starting points, we then carefully develop our flexible EYFS Curriculum, which enables them to follow the path of their learning journey at a point that is suitable for their unique needs and stage of development.
Our Curriculum
From 1st September 2021, all early years providers must follow the new Early Years Foundation Stage (EYFS) framework. We were lucky to have been early adopters of this framework in September 2020 and we have worked hard to create our own curriculum in line with the new framework. Our curriculum is flexible and allows us to tailor our provision to the needs of our children. We strive to create a highly stimulating environment with child-accessible resources and provide rich, challenging learning opportunities through play and imaginative teaching, both indoors and outdoors. Each area of provision is carefully planned for, taking into consideration how children learn and what they need to enable them to become experts! We have high expectations of all children and pride ourselves in our inclusive environment.
With the new changes having specific focus in early communication and language skills, we ensure that our provision is rich in text and provides all children with opportunities to talk, learn and understand language. We use stories as our teaching focus to allow us to develop children's imaginations, language skills and ensure a lifelong love for reading.
Our curriculum enables the children to develop skills in all 7 areas;
-Communication and language
-Physical development
-Personal, Social and emotional development
-Literacy
-Mathematics
-Understanding the world
-Expressive arts and design
We teach phase 1 phonics in Nursery to prepare the children to become excellent readers and we use the Launchpad for literacy approach within the setting which enhances our language rich environment.
The following stories that we will be sharing with the children are just a glimpse of the wide range of texts we will be delving into: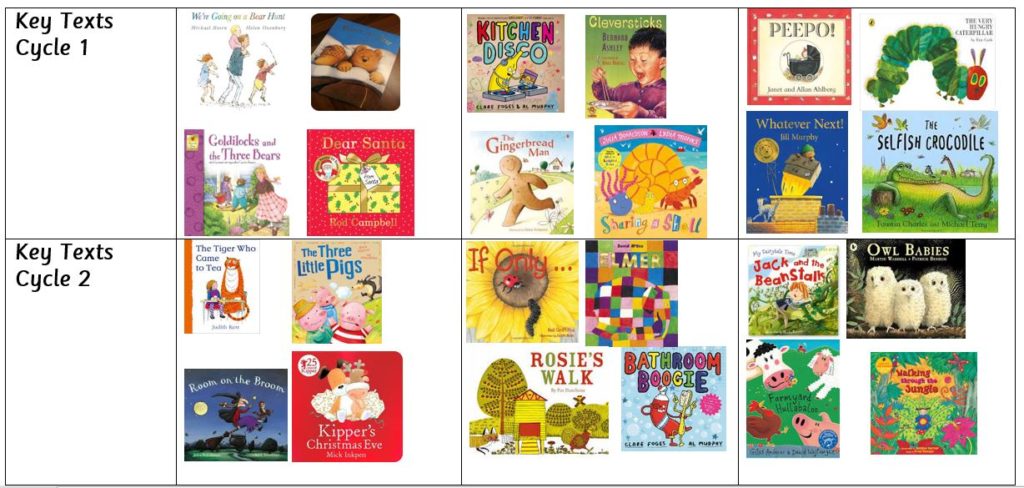 Positive, Effective Partnerships.
We believe in strong partnerships between staff, children, parents/carers and the wider community. We have effective relationships with private child-care settings, our school nursing team, speech & language therapists and many other external providers.
We provide many opportunities for parents/carers to be involved in their child's learning at home and at school. We value parents/carers knowledge and understanding about their children and work together to make sure every child reaches their full learning potential.
Look out for some new pictures on our Class Dojo as the children explore their learning environment! We use Class Dojo as a way of sharing successes with parents and carers. It is also used for parents and carers to share with us the wonderful things the children have been doing out of school too! We are so very proud of all of our children and we love to celebrate their achievements whether it be learning to fasten their own coat, ride a bike or scooter outdoors or be able to create a masterpiece in the creative area!
Our children will grow and develop significantly over their time in EYFS, It truly is a wonderful journey to be part of.