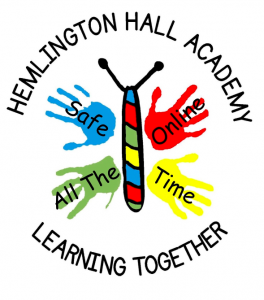 The internet can be a excellent resource for information, learning and for entertainment. As pupils gain more skills and knowledge of technology, they become more adventurous in their use. It is therefore very important that parents and carers know exactly what their children are looking at and accessing on the internet. All children need to be aware of the dangers and need to know how to keep themselves safe online.
Online Behaviour and Safety is at the heart of our learning environment. Each year, we recognise Safer Internet Day and invite Online Behaviour and Safety specialists to talk with our children and parents. The message is delivered through Anti-Bullying Week. The Police are also active, delivering assemblies on Stranger Danger with a focus on Online Behaviour. Children create their own class contracts and outline how they will use their iPads and how they will stay safe online. Children are aware that all school online activities are monitored and filtered by our IT support, OneIT Services and Solution, and should anything cause concern, the children must report it to a member of staff.
Our key messages for Online Behaviour and Safety are outlined in Kidsmart's Poster. We embed the message that Nothing is Private once it is posted online. We encourage children to discuss their online activities with their parents or carers and to make sure that someone they trust has access/passwords to their device (inline with Police guidance to support with 'The Magic Hour' in the event of a Missing Person Incident).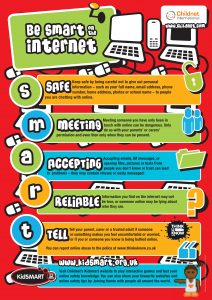 Useful Links:
http://www.safetynetkids.org.uk/personal-safety/staying-safe-online/
http://www.bbc.co.uk/cbbc/curations/stay-safe
http://www.digitallyconfident.org/
https://www.nspcc.org.uk/preventing-abuse/keeping-children-safe/online-safety/
http://www.saferinternet.org/home
http://www.bullying.co.uk/cyberbullying/how-to-stay-safe-online/?gclid=CPbtgeyYrtACFVYo0wodf3UJtQ
Remember
Safe Online All The Time