Embracing  Encouraging  Educating 

Our school's aim is to embed a love of lifelong learning through a creative environment that offers security, support and success for all. At Hemlington Hall Academy, we embark on a journey of learning together, whereby our children grow and develop in to good people. Developing children's character, through positive attitudes, resilience, courage, curiosity, kindness and care are central to daily life at Hemlington Hall.
This bedrock encompasses all of school life, but particularly the approach and policies of the school in relation to:
Personal, Social, Health, Citizenship and Economic (PSCHE – including Relationships and Sex Education),
Fundamental British Values,
Behaviour
Spiritual, Moral, Social and Moral (SMSC) aspects of school life.
In order to realise this vision, in every day practice and interaction, at Hemlington Hall we live by a set of 6 virtues – which are articulated, recognised, lived and taught.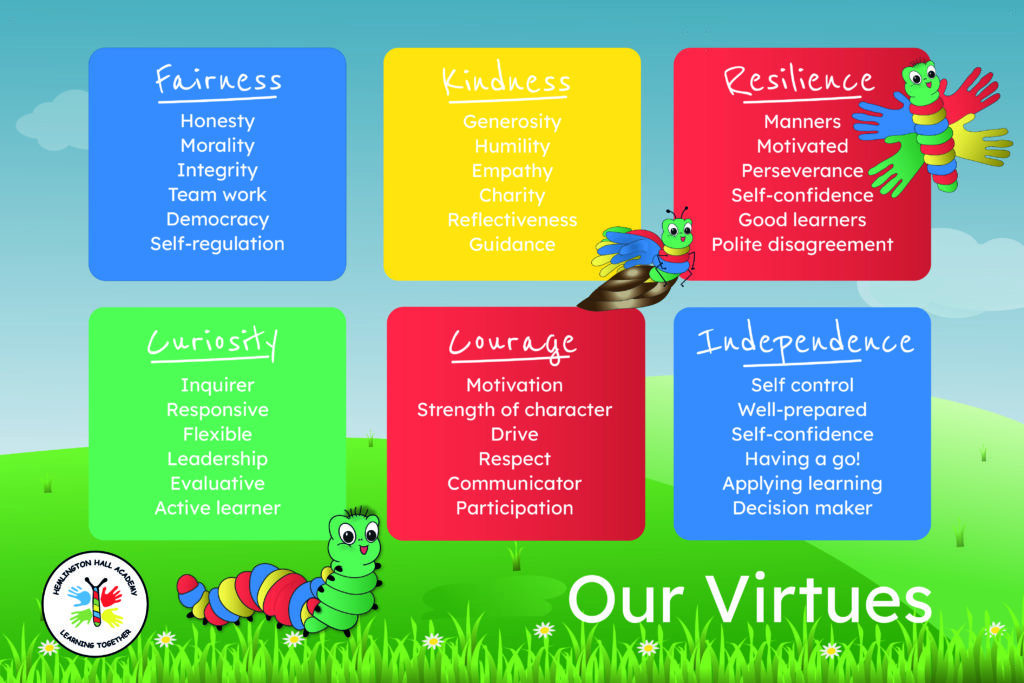 Learning Together on our Journey…
Happy, hard working
Enquiring minds and excellent communicators
Motivated to do well
Liaise with all neighbours
Independent in thought and action
New experiences and achievements
Go that extra mile to achieve the best
Thoughtful, honest, caring and considerate
Open to new ideas
Needs of the whole child are met
Healthy in mind and body
Aspirations and high expectations
Life-long love of learning
Leave fulfilled academically, socially and emotionally