School Uniform Expectations
All children to wear black shoes.
In winter, children to wear a royal blue jumper or cardigan, black/grey skirt, black/grey pinafore or black school trousers, with a white/pale blue polo shirt or shirt.
In summer, children can choose to wear a blue summer gingham dress or black/grey shorts.
All children receive a free school book bag upon joining Hemlington Hall Academy.
It is really important to dress for the weather as the children will be outdoors in many different weather conditions.
Uniform items with an embroidered logo can be ordered and purchased through school, however non-branded items of clothing are equally fine – no branded items are compulsory in our school.
We also have a uniform exchange in school, where families can swap pre-loved uniforms items.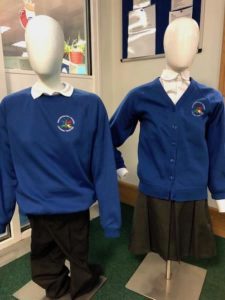 Our P.E. Kit is supplied by school for all children. This remains in school at all times and is laundered by school. 
Please see below for The Academy's dos and don'ts.
Why do we wear uniform?
To look smart
To be ready to learn
To be simple – no fuss
Dos
Weather appropriate coat – a warm cagoule/water proof jacket should be provided
Wellies – in the event of rain or snow (indoor shoes required to change into)
Simple Watches  –  smart watches are allowed but must not have a camera or cellular connectivity.
PE Kit

School supplies all children with a PE kit. 

SWIMMING KIT

Trainers or Plimsolls – with non-marking soles

Should you wish for your child to wear goggles a separate consent form should be completed.
DON'TS

with the exception of

a simple watch
A single stud earing in each each ear is allowed but must be removed or covered for P.E.

PLEASE Remember to Label EVERYTHING!
For KS2 swimming, a one-piece bathing suit or swimming trunks is needed. A comb and a towel should be provided from home. Should you wish for your child to wear goggles, the pool ask that you complete a separate consent form, as they prefer children not to wear goggles (link below).
Please put your child's name in every item of clothing including coats and shoes, so that items are not misplaced and can be easily found if they are.
Children are not allowed jewellery other than a watch and a single stud in each ear, which must be removed or covered for PE.   Staff are not insured to remove children's earrings.
It is important to remember that children come to school to learn, and that 'party' clothes and 'statement hairstyles' are not appropriate during a school day. Striking hairstyles, which includes shaved patterns, mohicans, 'tails' and dyes/bleach, are not allowed.
Long hair needs to be fully tied up.
Nail varnish should not be worn for school.
You can order sweatshirts, cardigans, polo shirts and fleeces from the school with the school badge / logo. Sew-on logos are also available to buy, to add to plain royal blue sweatshirts / polo shirts available from other stores. Please download the uniform order form from the 'Downloadable Forms' tab.