Our school uniform is a Royal Blue sweatshirt, cardigan or jumper worn with black or grey trousers / skirt. Summer gingham dresses for girls should be blue / white and shirts, blouses or polo shirts should be pale blue or white. Children should wear black, sensible school shoes.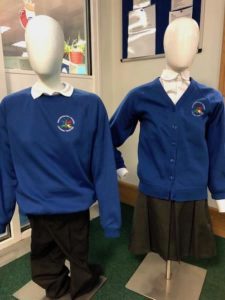 Our P.E. Kit is black or navy shorts and a plain white T-shirt; no football strips, logos / slogans or expensive trainers please.
Please see below for The Academy's do's and don'ts.
Why do we wear uniform?
To look smart
To be ready to learn
To be simple – no fuss
| | |
| --- | --- |
| BOYS | GIRLS |
| | Royal Blue Jumper or Cardigan |
| Pale Blue or White polo-Top or Shirt | Pale Blue or White Top or Blouse |
| | Black or Grey Pinafores Trousers or Skirt |
| Black, Grey or White Socks | Black, Grey or White Tights or Socks |
| | |
| | Blue and White Summer Gingham Dress |
It is really important to dress for the weather as the children will be outdoors in many different weather conditions.
Do's
Weather appropriate coat – a warm cagoule/water proof jacket should be provided
Wellies – in the event of rain or snow (indoor shoes required to change into)
| | |
| --- | --- |
| PE Kit (Boys & Girls) | SWIMMING KIT |
| | |
| | Girls – One Piece Bathing Suit |
| | |
| NO football kits, logos or expensive trainers please. | Should you wish for your child to wear goggles a separate consent form should be completed. |
DON'TS

All jewellery including Earrings

PLEASE Remember to Label EVERYTHING!
For KS2 swimming, girls need a one-piece bathing suit, boys need swimming trunks. A comb and a towel should be provided from home. Should you wish for your child to wear goggles, the pool ask that you complete a separate consent form, as they prefer children not to wear goggles (link below).
Please put your child's name in every item of clothing including coats and shoes, so that items are not misplaced and can be easily found if they are.
To prevent damage or injury to any child, jewellery, particularly earrings, should not be worn for school at all. Academy policies stipulate that earrings cannot be worn for P.E. or swimming so should be removed at home. Staff are not insured to remove children's earrings and items will be left in school entirely at your own risk. Parents are advised that piercing should be done at the beginning of the Summer holidays so that earrings can be removed for school from September.
It is important to remember that children come to school to learn, and that 'party' clothes and 'statement hairstyles' are not appropriate during a school day. Striking hairstyles, which includes shaved patterns, mohicans, 'tails' and dyes/bleach, are not allowed.
Nail varnish should not be worn for school.
You can order sweatshirts, cardigans, polo shirts and fleeces from the school with the school badge / logo. Sew-on logos are also available to buy, to add to plain royal blue sweatshirts / polo shirts available from other stores. Please download the uniform order form from the 'Downloadable Forms' tab.