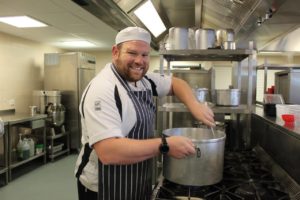 Mr Andrew Smith
A big welcome to our new school cook who joined Hemlington Hall's staff in September 2019.
From September 2014, all children in Reception, Year 1 and Year 2 became entitled to a free school meal every day under the Government's UFSM policy. Your child may also be eligible for Free School Meals if you are in receipt of benefits, please ensure the school is aware of this, as the school can also access Pupil Premium funding for your child, which will support him / her with learning.
Meals cost £2.00 per day – £10.00 per week. This money should be paid by cash or cheque (payable to Hemlington Hall Academy) on a Monday morning in an envelope provided by the school. Where possible, your child should bring the correct amount of money with the envelope accurately filled in. Children cannot be provided with a school meal unless it is paid for in advance. If a debt is created, you will receive a text message and letter advising how to resolve the matter. In the first instance, please ensure you speak to a member of the office team or the Head Teacher.
A free meal is supplied to children whose parents are in receipt of certain benefits such as Income Support. If you think your child may be entitled to free meals please contact the school. Children receiving free school meals are treated in exactly the same way as children who pay. School will check on your behalf, just supply the office with your name, date of birth and national insurance number. They will check and then let you know the outcome.
Should you wish for your child to change meal arrangements, we require one half term's notice. Without this notice we cannot guarantee that changes can be made. The school operates a cafeteria system based on rota with children having a choice of school meals, including sandwiches and a salad bar.
Nut Free School
As we have children with severe allergies we have made the decision to become a nut free school. We would like everybody to support us to fulfil this as much as possible. it is important that food containing nuts are avoided in packed lunches which are sent into school.
Packed Lunches
We are a Healthy School and promote healthy eating and would ask Parents to provide a balanced meal for their child each day if bring a Packed Lunch. We do not allow children to bring glass / cans or fizzy drinks, sweets or more than one biscuit / cake / choc bar to school or in their Packed Lunch Box. See below for tips on a healthy Packed Lunch…
Packed Lunch Box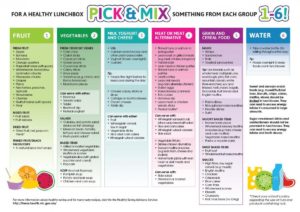 Please remember to avoid products containing nuts.