Our Peer mentoring program, at Hemlington Hall Academy, is about provide guidance for the children from the children. Through this special relationship, peer mentors provide advice and support and serve as role models for younger and older people who need help.
These children do a wonderful job supporting everybody at Hemlington Hall Academy.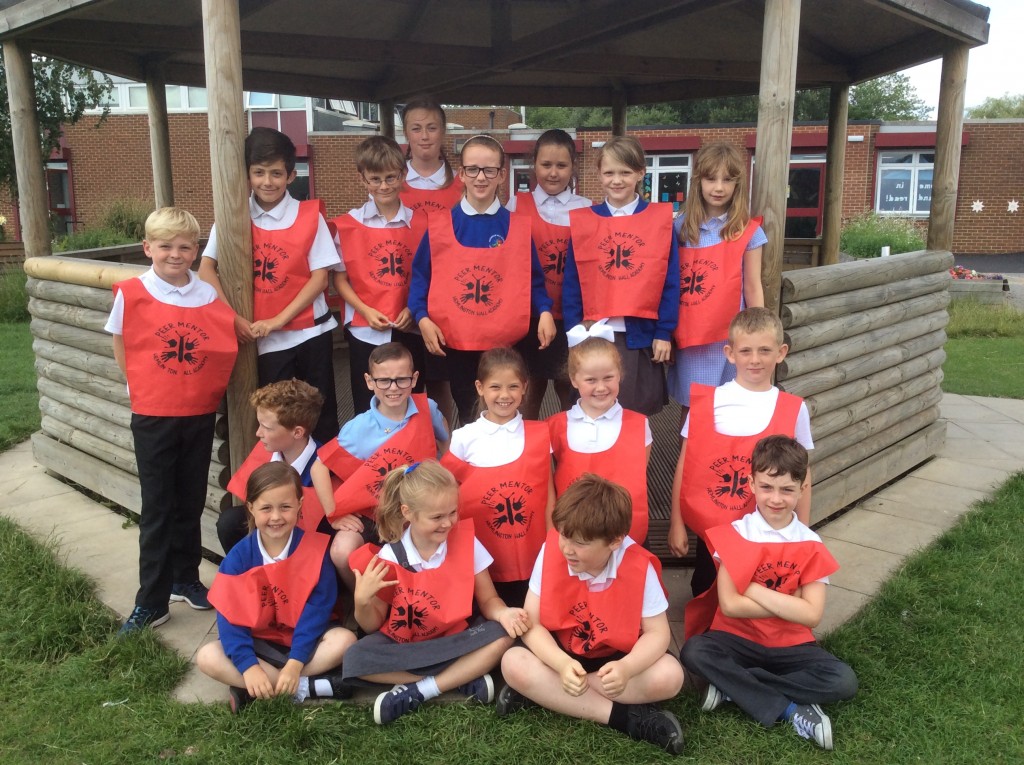 A few words from our Peer Mentor Leader…
My name is Seth and I am the pupil Peer Mentor leader. I'm writing about what it is like to be a Peer Mentor. Being a peer mentor has a lot of responsibility, like making sure everyone has a good time and has a friend to spend that time with, which is why we are trained to know how to solve friendship issues. All the Peer Mentors take turns going down into key stage one at lunch times. Some of the problems we face are: falling outs, arguments and being left out. If we face a problem like violence then we will report the problem to a teacher or another member of staff, this is called a hot potato. We take care of problems by listening to each side of the story, ask them what they would like to happen and once it has been sorted we might play a fun game. Once they go out to play we record the incident on a special form. If someone is lonely they can come inside and play board games or we can play outside with them to keep them company.
Written with help from Jai and Callum.
Challenging Bullying  2015 – 2016
The Peer mentors have just received an award in recognition of all their hard work and dedication.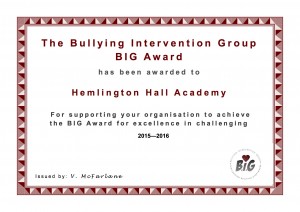 Hemlington Hall Academy have created a caring and nurturing ethos in their school.  They have fully trained peer supporters who are there for other pupils who may be upset or need friends to play with.  Their anti-bullying policy is excellent, concise and comprehensive.  Hemlington Hall adopt a whole school approach to ensure that the pupils treat each other with respect.  The children are involved at every stage of their anti-bullying work and we are delighted to award them for excellence in challenging bullying.
Val McFarlane (Director – Bullying Intervention Group)