Religious Education (RE)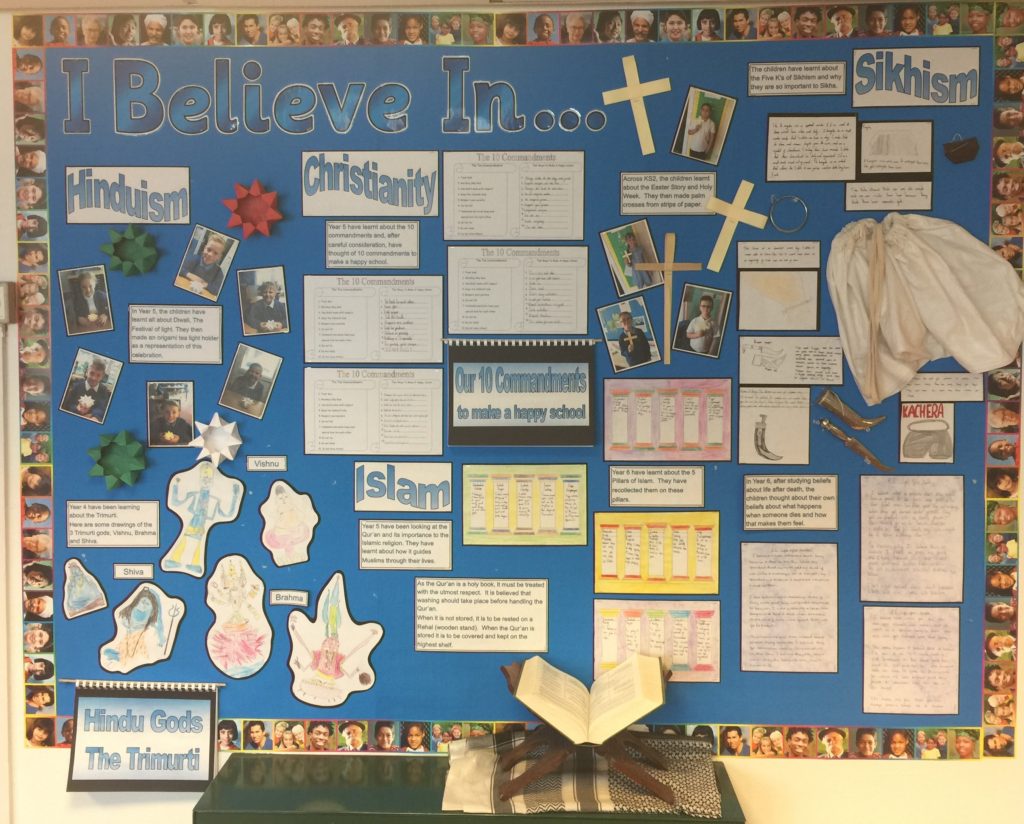 At Hemlington Hall Academy, we recognise the important role that Religious Education plays in the personal development of all of our pupils, in addition to developing SMSC skills – Spiritual, Moral, Social and Cultural aspects of learning. Pupils will be equipped to face the demands of the contemporary world they live in, developing positive attitudes to their learning and to the beliefs and values of others in line with Fundamental British Values.
We follow the Middlesbrough Agreed Syllabus to engage pupils in enquiring into and exploring questions arising from the study of religion and belief.
Ten things to celebrate about Religious Education at Hemlington Hall Academy are:
We teach within the requirements of the Middlesbrough Agreed Syllabus for Religious Education.
We worked with a team of schools within Middlesbrough to develop high quality planning overviews and lesson plans and to share good practice.
RE is a well-resourced subject with central stores within school that are accessible to all staff leading RE teaching at any given time. Each of the religions studied across the key stages have a clearly labelled box, containing artefacts, texts, posters and teacher resource books.
We work on the basis of continuity, ensuring learning is progressive and builds on children's learning in previous years. To achieve this, we work through key themes assigned to each year group to experience a range of religions. In Key Stage 1 children study Christianity and Judaism. In Key Stage 2 children study Christianity, Islam and Hinduism.
Foundation stage study Christianity and relate this well to our SEAL scheme (JIGSAW) and their areas of development, relating this closely to children's everyday lives.
We have excellent HLTA's who often lead learning in Religious Education and have a great knowledge and understanding of the subject and agreed outcomes. HLTA's work in close liaison with class teachers to ensure assessment judgements made for each child are correct, and to ensure planning provides children with a rich and stimulating RE curriculum.
Children complete all of their RE work in their learning journeys and this is marked in accordance to the whole school marking policy.
Children speak confidently about their learning in RE and have a clear understanding of its importance both inside and outside of school.
Children are assessed against the key questions for each theme in the year group – working towards, at expected standard or working at greater depth. Their assessment record is completed at the end of each academic year as part of the whole school Creative Curriculum assessment document for each class.
Attainment is reported annually on children's end of year report. Parents' have opportunity to discuss their child's attainment with the class teacher should they wish.
Key Stage 1
The children will extend their knowledge about Christianity and be introduced to some aspects of Judaism, with opportunities to compare and contrast the two religions.
Key Stage 2
The children will build further knowledge about Christianity and be introduced to the religious beliefs of Hinduism and Islam.