*WORLD BOOK DAY*
Today I have kept our morning lessons as normal, to provide you with some structure at home.
We will be having a *screen free afternoon*.
I have posted the resources you need at the bottom of the page. You can even join our Zoom lessons dressed as your book character!
Phonics – Zoom at 9:15am
Today we will be revisiting word using the -ing suffix.
We are continuing with out learning that /or/ sound before /l/ is made using the /a/ grapheme.
Writing
We are still thinking about the the story 'The Storm Whale' by Benji Davies.
Use your story sequencing from yesterday.
Today you are writing the story in your own words.
You might start something like this:
Noi was a young boy who lived with his Dad in a wooden, grey house by the sea. They had six furry, soft cats who lived with them too! Every day, Noi's dad was very busy so he left for work early in the morning and spent the whole day on his tiny fishing boat…
Maths – Zoom at 11am
Today we are thinking about solving multiplication and divison problems using our times tables knowledge.
WORLD BOOK DAY
This afternoon you are encouraged to have a SCREEN FREE afternoon.
Choose a starter, main and desert from these choices and get creative!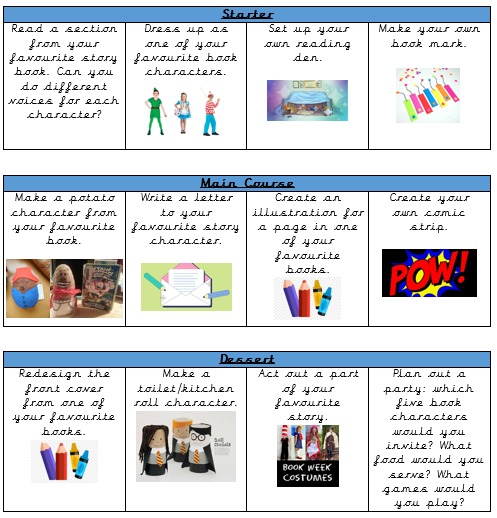 You can complete your own chosen world book day activities if you would like! Be sure to send us lots of pictures! 🙂